Back to Blogs
​
After a long and challenging year, the time had finally come to once again gather our entire company for our annual Kickoff. People flew in from various cities including Oslo, Malaga, Barcelona, Valetta, Tallinn, Finland, Frankfurt, Lanzarote, and Paris to our main destination this year - Lisbon, Portugal.

The Kickoff tradition began in 2018 and has since served the purpose of bringing our offices and colleagues closer together. Last year's theme was "Culture," and this year's theme was "Colleagues." For an international company spread across different countries, it is crucial to gather from time to time to ensure the company culture and align with the same long-term goals.

This year was no different. On Wednesday afternoon, we met for the first time in the city centre to greet everyone with drinks and snacks and catch up with each other, taking photos. Lisbon turned out to be the perfect destination for the Kick-off as we have an office there, many of our biggest clients are present in the city, and it is the country where we have helped most people get a job.

Thursday started with individual work, followed by some exciting workshops in the afternoon. We had a "Colleague Connect" workshop, where we got the chance to talk with different colleagues, like a Blind Date, for a few minutes each. After that, we had a workshop on Sourcing, where we put our wise minds together to come up with new ideas and solutions.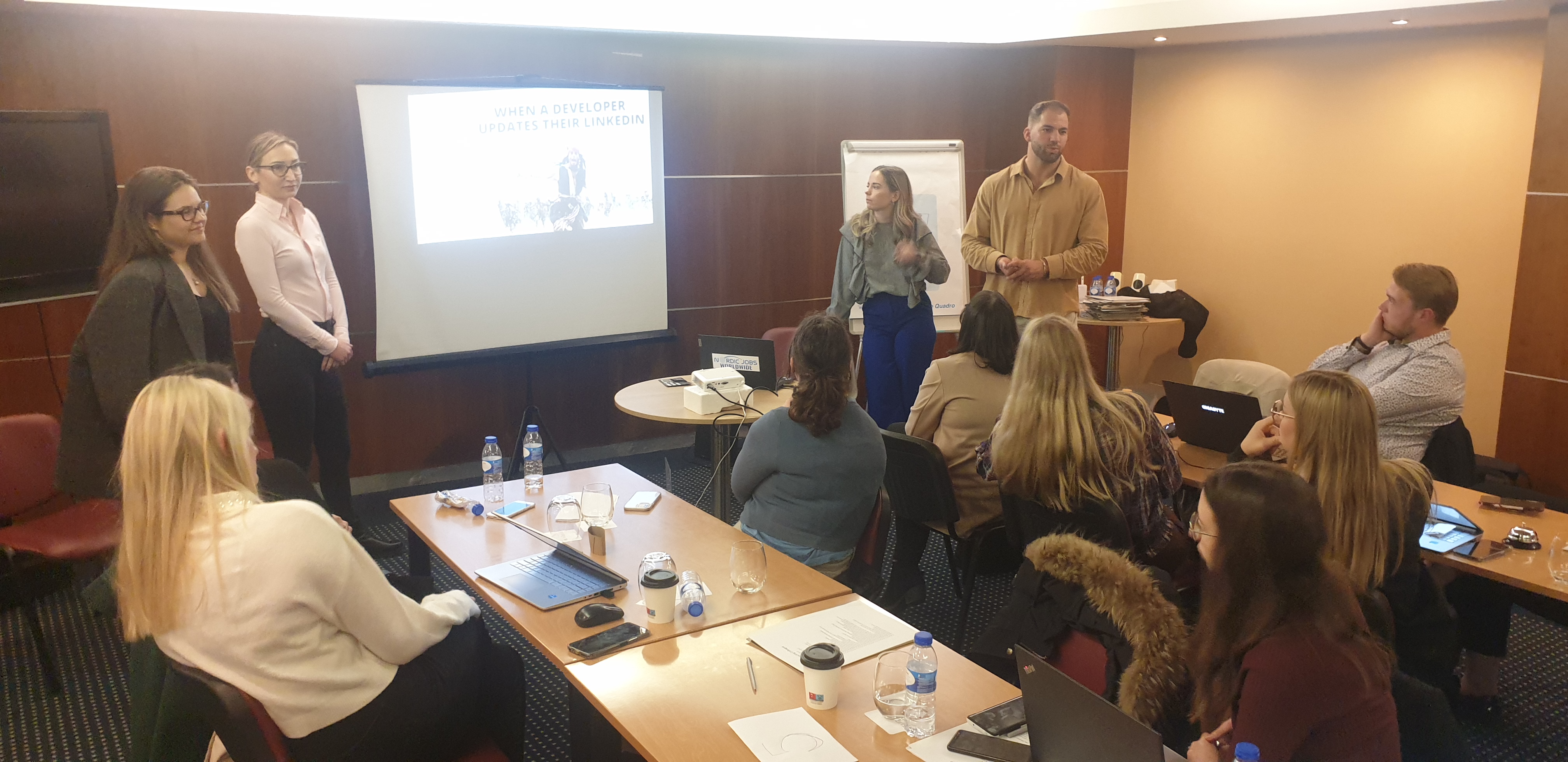 Friday was full of workshops and sessions from early morning to late afternoon. We went through company branding, client relationships, and got presentations from one of our earliest clients, Teleperformance, as well as from our founders, who went through the company's history, our 2022 results, and our goals for 2023. They reminded each employee about their individual impact on the company's overall success. According to tradition, the Kickoff ended with the yearly Award Ceremony on Friday night, where we praised and highlighted colleague and team efforts while enjoying a delicious dinner.

With new goals established and relationships strengthened, it is safe to say the Kick-off turned out to be nothing but a success. Are you interested in becoming a part of our journey? Now's the perfect time, as we are looking to fill a number of internal positions.

This is an incredible opportunity to take your skills and experience to the next level while getting chances like this to explore some of the most vibrant and dynamic cities in Europe. Don't miss out on the chance to grow your career and make unforgettable memories along the way. Apply for one of our open internal positions today!
​
​
​